Talented Chef, food artist, and rising star are words that describe, head chef Jim Gallagher and rightly so.
While some chef's dishes are beautiful but the taste suffers, this 37-year old American Chef is as renowned for his artful masterpieces as he is for crafting elegant dishes that focus on taste first. Intriguing and delightful dishes like Sweet Potato Agnolotti, Pan Roasted Carrots In Goat Butter and Sautéed Sea Scallops With Parsnip Purée & Apples will make you an instant fan.
"Taste is everything!"
Born and raised in Philadelphia, Jim grew up in a large household of family members including his grandmother who greatly influenced his career choice. Spending time with her cooking at a very young age helped shape his passion for cooking and ultimately his career as a chef. Like many chefs of his generation, his upbringing watching his favorite food shows, Emeril and Great Chefs gave him a love of food outside of his local traditions.
At the age of 14, Chef Jim's culinary journey began with his first job at a local Italian restaurant washing dishes and quickly moving to the line by age 15. Graduating from the Culinary Institute of American in 2000, he began developing his skills in some of Philadelphia's top kitchens. While his experiences were influencing his plating style & palate, Jim began to create his signature style that you see today, where every detail has been thought out and carefully executed.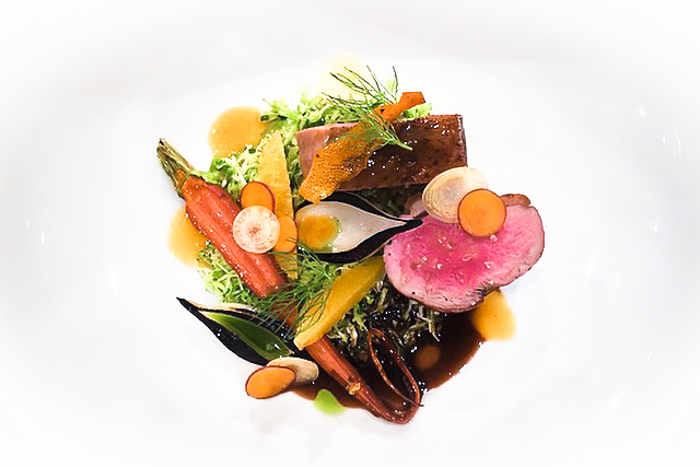 Duck À L'Orange With Brussel Sprouts And Carrots © Jim Gallagher
When asked about his style, he says it, "can be described as modern French. I like to allow the ingredients to speak for themselves, being careful not to add anything to the dish that doesn't serve a purpose." Jim likes to keep it interesting with a varied plating style. He says, "Sometimes my food is very linear where other dishes look like a modern twist on a home cooked meal."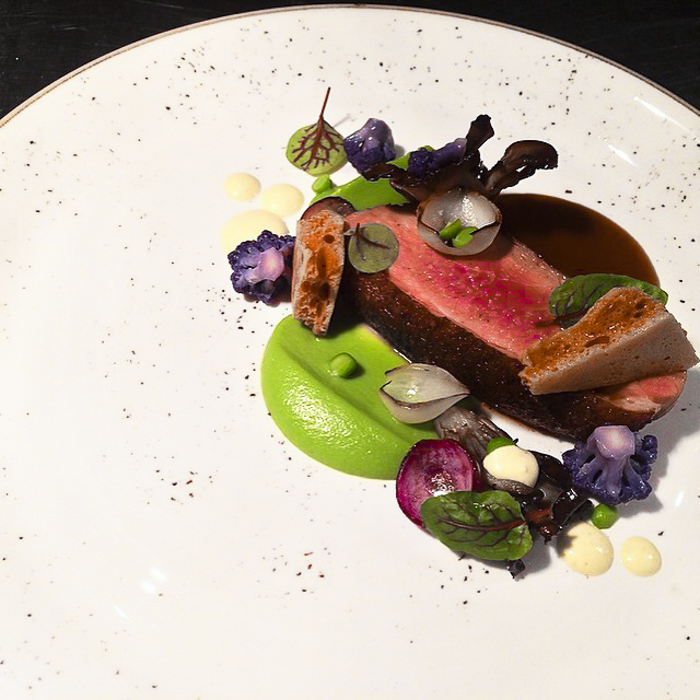 Duck Breast With Pea Purée, Maitake Mushrooms, Curry Crème And Ginger Lemongrass Reduction © Jim Gallagher
But it was not always so. Jim understands and acknowledges the importance of plating, but his philosophy above all else is, "taste is everything!" Naturally, we inquired further about this; he said: "foods that I ate at home as a child were never aesthetically pleasing, yet if I eat something today that allows me to recall those flavors, those flavors are attached with a memory that stimulates happiness." He goes on to add, "some of the best dishes I've eaten were not necessarily the prettiest, but if you can achieve both flavor and beauty you have really won!"
As a chef, he never stops learning and dedicates much of his time to developing new techniques and learning from well-known chef's; Thomas Keller, Daniel Humm and Marco Pierre White. On his days off, he's simply a father to his young son and husband to wife, Jackie. Join me as I dive more into the daily life of Jim Gallagher and his advice for young chef's and explore his top 5 cooking tips.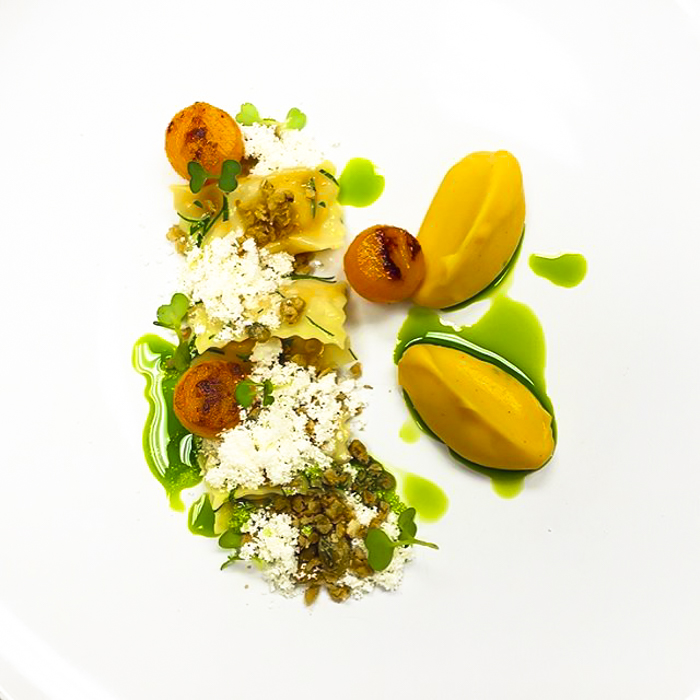 Sweet Potato Agnolotti With Granola And Beurre Noisette Powder © Jim Gallagher
What does your daily job look like as an Executive Banquet Chef?
As a banquet chef, my days are very structured. I know well in advance the challenges I will face in the form of BEO's that dictate every detail of a wedding or other event. We prep, plan, and organize. However, they differ greatly from my days as a restaurant chef in terms of the unexpected happening, which can be very exciting and adrenaline boosting!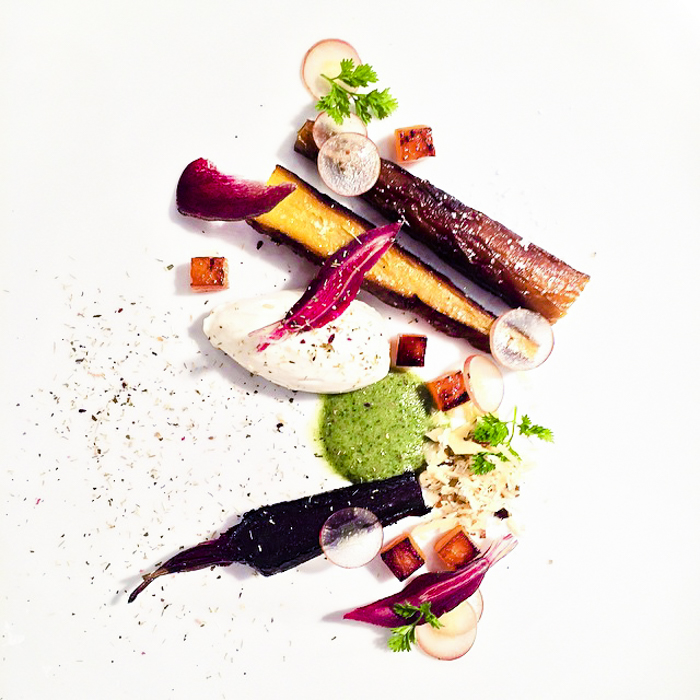 Pan Roasted Carrots In Goat Butter With Chamomile-Yogurt And Cilantro Pesto © Jim Gallagher
What have you learned in your career working for hotels & resorts that you think you wouldn't have learned working in a small kitchen, for example?
I've worked in both hotels and independent restaurants and from both I've gained invaluable experience. The great thing about working in an independent restaurant is that things are on a much smaller scale, and it might be easier for a young cook to learn the ins and outs of the operation. Moving through stations or having the down time to work with the saucier to learn how to make the perfect lobster stock might be easier in a smaller restaurant.
With that being said, I find it even more beneficial to get into a larger, more established and structured environment like a 5 Diamond hotel as early as possible. The intensity may not be for everyone, but if you go in open-minded and driven, it's like putting your career in a slingshot! You may spend a whole year in the pantry, but after that year, you'll have better organization skills than a cook who has been at it for 5 years in a lesser establishment. It isn't easy and the days are intense but in the end, your skill level, speed, and attitude will all benefit you tremendously.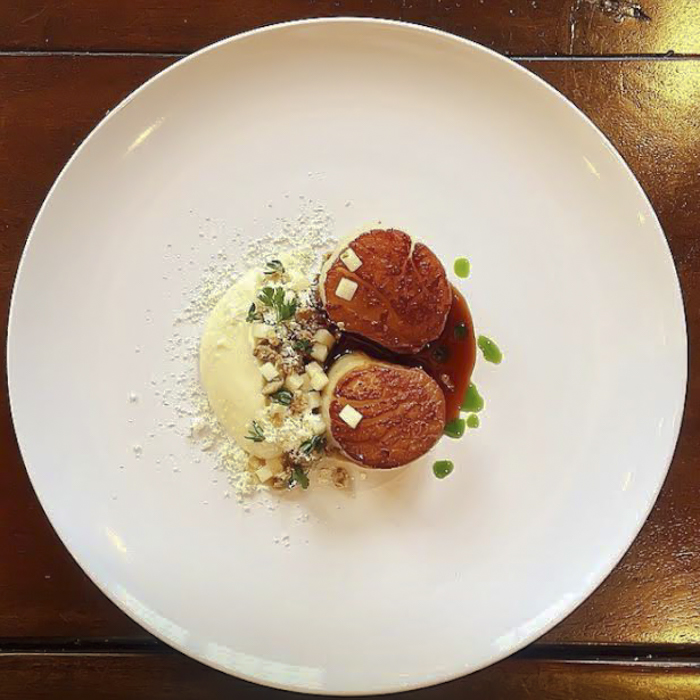 Sautéed Sea Scallops With Parsnip Purée, Apples, Granola And Cider Vinegar Jus © Jim Gallagher
What are your top 5 cooking tips?
Taste is everything!!! You must constantly be tasting your food throughout the entire cooking process.
Experiment and fail. Most of what I know how to do perfectly today is because in the past I've destroyed it every way possible.
Graduate to tweezers. When I started cooking, I was learning techniques and flavors. Tweezers didn't exist in the kitchen. I learned how to cook properly before I learned how to plate food. The plating will come, but if you put that in front of technique your screwed. Nothing is worse than a really cool looking dish that tastes like shit.
Trust yourself. Believe in what you're doing. Have confidence that if you've made it this far it is for a reason. Embrace failures and learn!
Have fun!!! Food and cooking are fun. Don't forget why you started doing it in the first place. To quote the great Marco Pierre White, "At the end of the day it's just food."
Looking for more inspiration?
FOLLOW JIM ON INSTAGRAM>