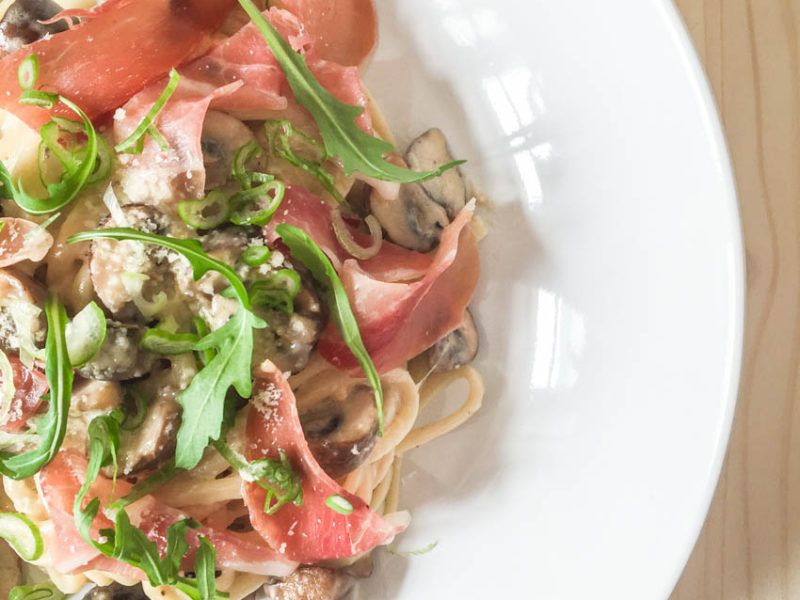 There's nothing quite like this creamy mushroom and speck linguine to satisfy your craving for pasta!
This pasta linguine is loaded with tender mushrooms, savory speck, and fresh spring onions. The combination of white wine and mushrooms take this creamy sauce to the next level. Garnish with aromatic roquette and shaves of parmesan for an authentic Italian recipe. Perfect for a quick and easy lunch or dinner, this delicious linguine is on the table and ready to eat in under 30 minutes.
 2 SERVINGS      30 MINS      EASY    PINOT GRIGIO OR SAUVIGNON BLANC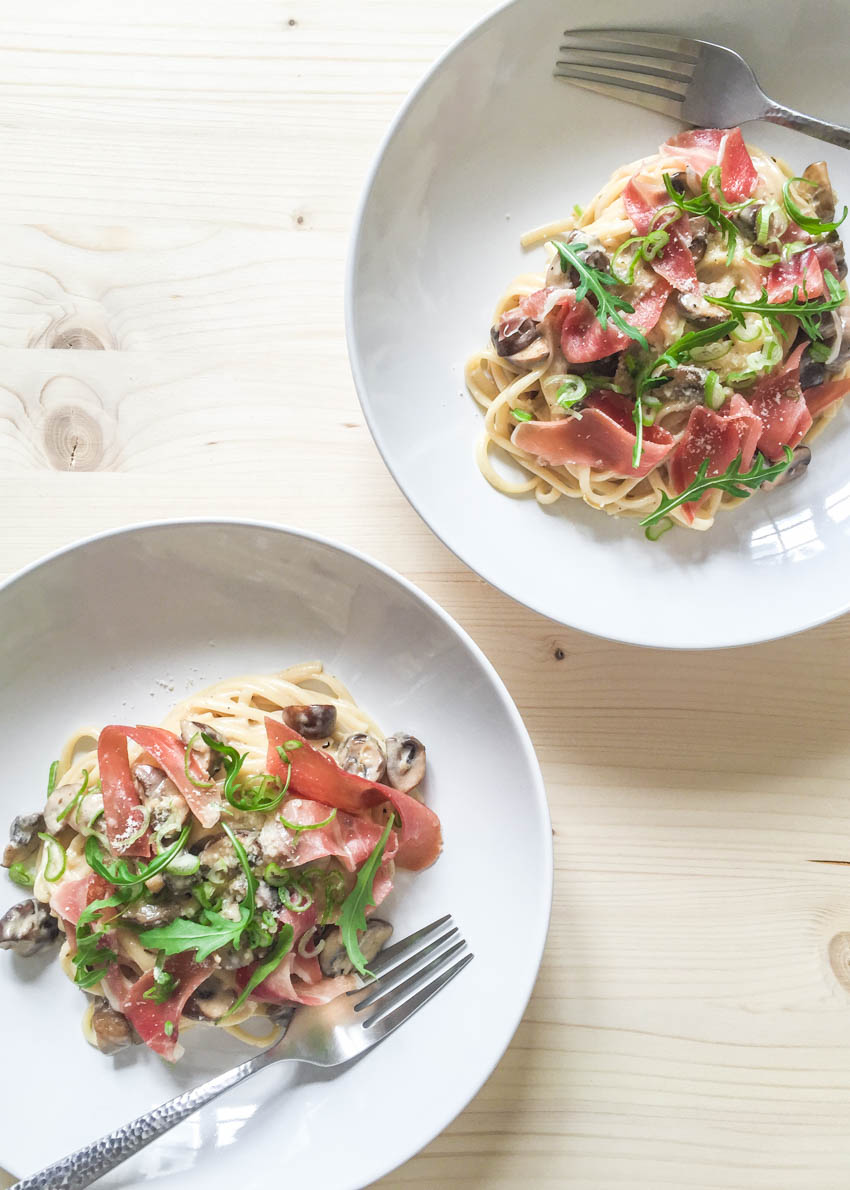 Ingredients
200 g linguine
1 small spring onions
100 ml white wine
150 g heavy cream
150 g crème fraîche
200 g mushroom
90 g speck
20 g Parmesan cheese
few leaves roquette
salt to taste
1 pinch of black pepper
METHOD
Creamy Mushroom & Speck 
Wash the spring onions and the mushrooms, and peel the garlic.
Slice the spring onions into fine pieces and set aside.
Cut the mushrooms into 6-8 equal pieces or as desired.
Heat a pan on hot heat with oil. Sweat the mushroom for 3-5 minutes until the water in the pan is evaporated.
Add butter to the pan. Then add the spring onions and crush garlic. Sweat for 1 minute.
Pour the white wine and reduce by half.
In the meantime, cut the speck into narrow strips. Set aside.
Add the creme fraiche and the heavy cream to the pan. Cook for 2 minutes until you have a nice cream sauce. Seasoning with salt and pepper to taste. Set aside in the pan.
Linguine & Finishing
Bring salted water to a boil in a large pot. Add the linguine, cook as you prefer; firm, al dente or fondant.
In the meantime select some nice leave of roquette and grate some parmesan cheese. Set aside.
Gently reheat the creamy mushroom sauce.
When the pasta is ready, strain the water and add the creamy sauce.
Then add the speck and mix all the ingredients together. Serve immediately in a pasta plate, add the parmesan and the roquette. Bon appétit!