Fresh off the success as a semi-finalist of Finland's Chef of The Year competition, Chef Benjamin Frostell leads the kitchen at Krog Roba in Helsinki, driven by passion, skill & grit. He creates stunning culinary dishes with a signature style described as "minimal, delicate, textured & expressive" that is quickly earning him a reputation as a rising star and a must-follow on Instagram.
"True story of the evolution of man to cook, cook to chef."
A self-taught chef, Benjamin has worked his way to the top. After working in a friend's catering business, he began running the kitchen at Kolo, a former Scandinavian upscale bistro in Helsinki with a Michelin guide recommendation. After that, he opened and ran a successful kitchen in Restaurant Sicapelle in Porvoo, Finland, which helped establish the city's reputation as a food destination before moving back to Helsinki and spearheading the kitchen at Krog Roba in
Hotel Lilla Robert
, where he works today.
Inspired by the essence of the ingredients, Chef Benjamin naturally captures the spirit of Finland & contemporary cuisine. And no other dish best illustrates his signature style like Blue Potatoes Two Ways With Thyme-Infused Beurre Noisette & Edible Flowers, in which he uses blue potatoes from famed organic farmer Aira Sevón and cooks them sous vide to preserve their rich blue color. "This (dish) just works, and it represents everything I want to stand for as a chef: sustainability, locally produced, tasty and it's utterly delicious," he says.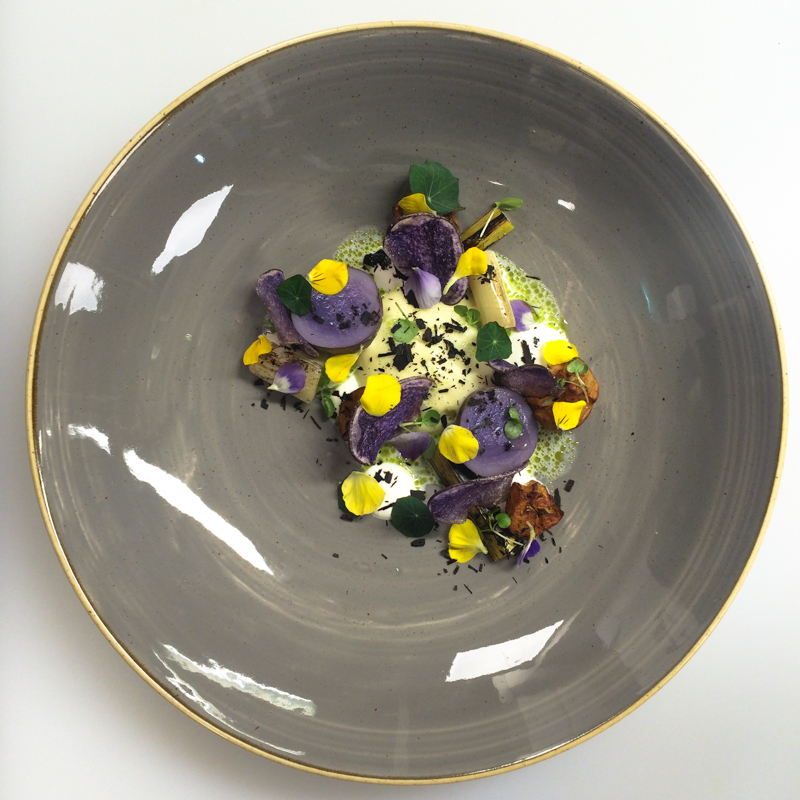 Gobbas blue kongo potato poached in garlic and thyme infused beurre noisette by Chef Benjamin Frostell © Benjamin Frostell
What was your first introduction to cooking and how did your passion for cooking start?
My first introduction to cooking must have been in the early ages between 5-10 years old. I loved making breakfast for my parents and serving them breakfast in bed. From there I always enjoyed being in the kitchen and cooking food for my family and friends and in time that evolved into more serious ambitions but not straight away.
Do you have a formal education or are you a self-taught chef?
I'm a self-taught chef. I worked my way through the trenches and studied on my own. Initially, I went to business college. After joining the army and extensive travel, I decided that I wanted to pursue a career as a professional cook and chef-to-be. When I returned to Finland, I began intense self-study until I finally got a tryout shift at a big hotel restaurant. The executive chef told me If I could hold out my game for 2 shifts I would be offered a job as a commis chef and the rest is history, as they say.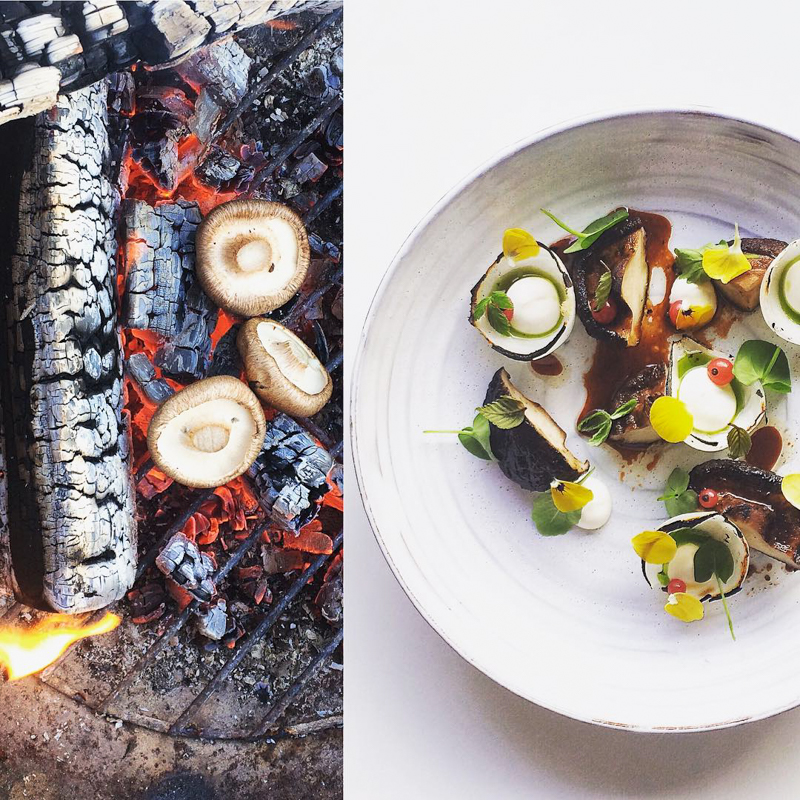 shiitake mushrooms grilled on birch embers, glazed with a fermented garlic, hazelnut oil and coffee glaze by Chef Benjamin Frostell © Benjamin Frostell
Tell me a little bit about your experience at restaurant Sicapelle.
We started off serving contemporary versions of bistro classics with a sharp Scandinavian taste, but as time went on we evolved. I started digging deeper into our roots, turned the food philosophy around and started serving contemporary new Nordic style cuisine made almost solely of local & wild ingredients. The meat we served was 90% hunted wild game or sustainably grown organic small game, or game fowl. During the two years of working at Sicapelle, we managed to be a part of establishing the city of Porvoo as a food destination.
What is important to know about your food philosophy?
I always let the raw ingredient tell me what to do next. I work in the environment of that ingredient to find compatible flavors, to enhance & highlight that one ingredient. Another one of my philosophies it to use organic produce that is sustainable and naturally grown. When I add protein to my menu or to a dish, I aim to use mainly small wild game, sustainably caught wild fish or lamb that is locally farmed, for example.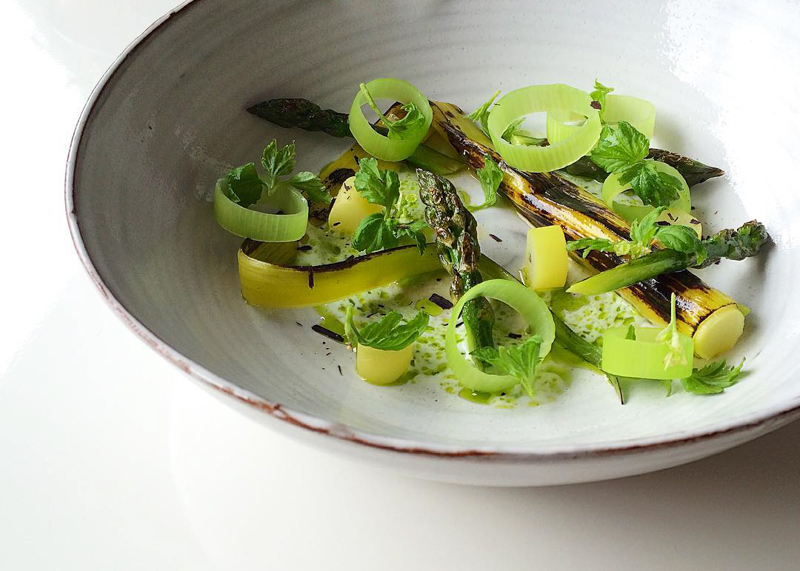 Leeks Vinaigrette by Chef Benjamin Frostell © Benjamin Frostell
How would you describe your plating style? 
I would describe my plating style as always evolving. I try to make it as natural as possible, minimalistic, no fuss, no frills, nothing out of the order; only what is needed to elevate that certain dish, taste wise. I never add anything just for the sake of adding it, like garnish. I tend to find myself building layers of flavors. I like to hide the whole dish, revealing layers of flavors so that the guest experiences a mix of contrasting tastes & characteristics with every fork or spoonful.
What is one of your proudest moments of this year?
This year, 2016,  I made it to the semifinals of Finland's Chef of The Year competition, which was my first ever cooking competition. It was an exciting experience and I loved the adrenaline that came with it. Next year, I'll rock the boat and go all the way!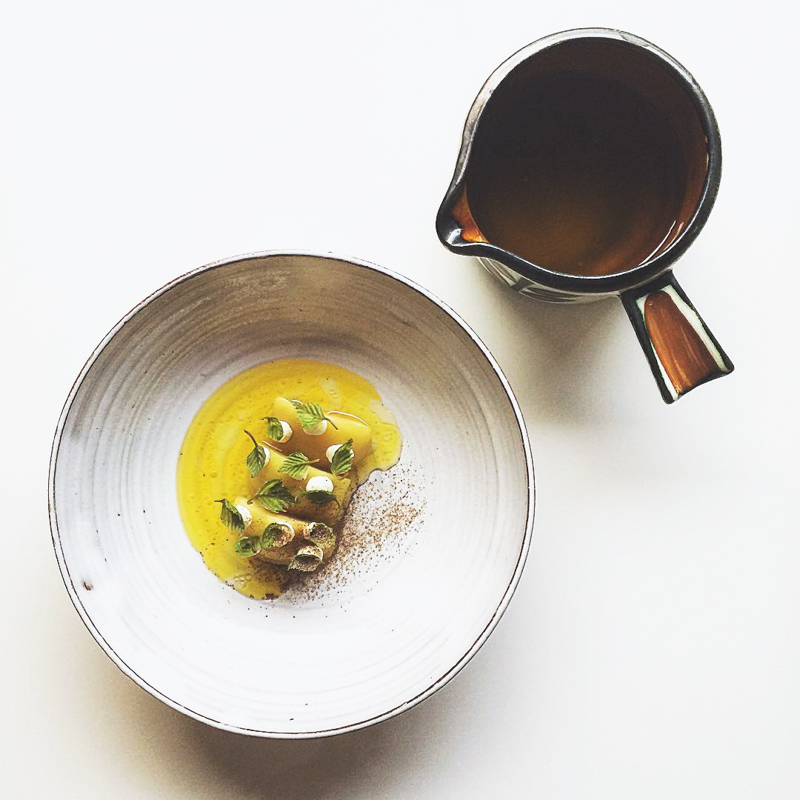 Last year's apples in malt vinegar & wild herb sour ale with hazelnut oil sour cream with chamomile buds & mustard seed flower oil broth by Chef Benjamin Frostell © Benjamin Frostell
What do you contribute to your success today?
I have studied as much as I can in my spare time and worked my butt off – blood, sweat, and tears; but it was all worth it! I am a true story of the evolution of man to cook, cook to chef.
And finally, what's next for you?
In the near future, I want to continue learning more of the trade day-by-day. My plan is to open my own place sometime in the next two years. So, stay tuned!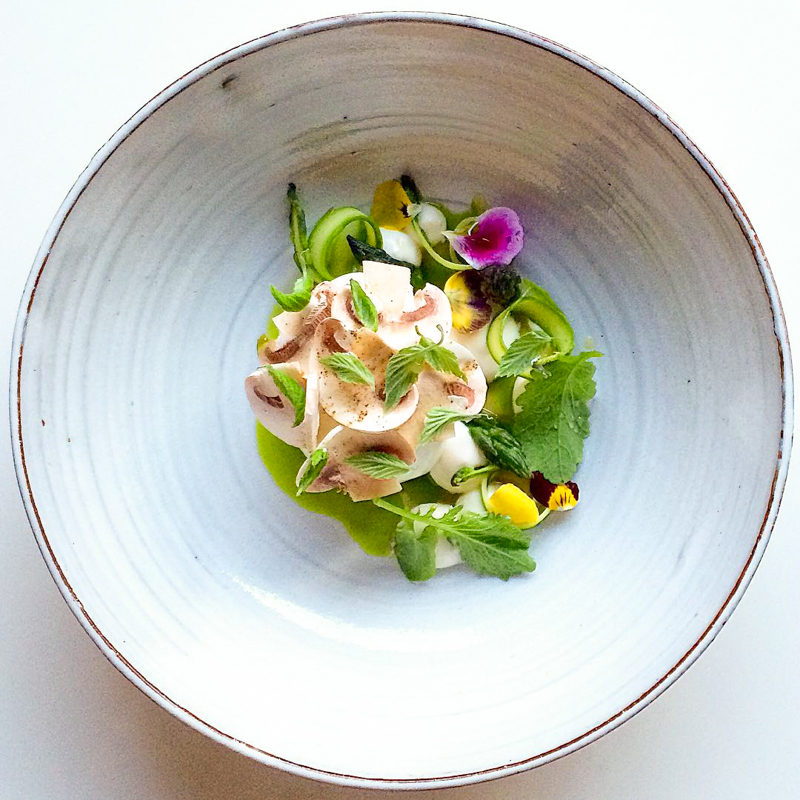 Poached duck egg, charred and raw green asparagus, goat milk yogurt, birch sap marinated button mushroom, birch leaves, sorrel juice and aromatic herbs by Chef Benjamin Frostell © Benjamin Frostell