Whipped up in a jiffy, this Fig, Goat Cheese and Honey Tartine not only makes the most of the seasonal figs but is easy to fit into your busy schedule, too.
Autumn is an exciting time of year with new fall produce, school back in full swing and the start of the holiday season. If you're like me, you have a bit of a hectic schedule, but you still want to make the most of the fresh fall ingredients like sweet, juicy Figs. Ideal for lunch, dinner or a delightful sweet & savory snack, it's made in under 10 minutes.
This heavenly tartine combines perfectly paired figs and goat cheese with sweet honey drizzled on crunchy rustic bread. Sprinkle with crushed walnuts for an additional autumnal flavor. Pair it with a glass of Jurançon wine, a sweet wine for the Pyrenees and savor the moment.
 4 SERVINGS      10 MINS      EASY    JURANÇON WINE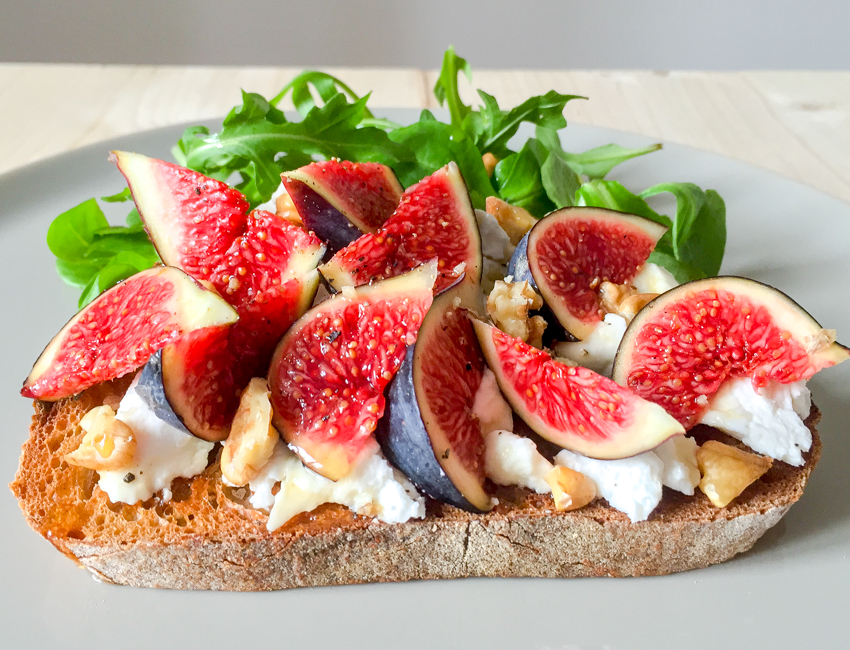 Ingredients
4 slices bread
8 fresh figs
150 g goat cheese
few walnuts
20 g honey
60 g arugula
1 drizzle extra virgin olive oil
1 pinch salt
1 pinch black pepper
Method
Crush a few walnuts and set them aside.
Slice some large pieces of bread with a bread knife, as desired.
Toast the bread in a toaster until it's golden brown and toasted.
In the meantime, wash the figs and cut them into 6-8 equal pieces.
Spread some goat cheese on the toast and place the figs on top as desired.
Sprinkle with crushed walnut and season with a pinch of sea salt and pepper. Finish with a drizzle of honey on top of the Tartine.
Place the Tartine on a plate with a side of arugula and season the salad with a drizzle of olive oil. Serve immediately. Bon appétit!