Inspired by my experience as a chef in Greek-influenced Cyprus, this Greek salad is healthy, quick and delicious!
At the luxury Amathus Beach hotel in Cyprus, I made a lot of Greek specialties. Since then I've perfected this recipe, and it's one of my go-to weekly salads. It is not only my favorite but also beloved in the Mediterranean and internationally for it's flavorful, healthy ingredients and simplicity.
Made in under 10 minutes, this delicious Greek salad recipe is filled with juicy ripe tomatoes, crisp cucumbers, Spanish onions, savory olives and fresh feta cheese. The classic Greek salad is made without lettuce. To make the classic variation, double the ingredients and exclude the lettuce. Serve with pita bread.
 4 SERVINGS      10 MINS      EASY   CÔTES DE PROVENCE ROSÉ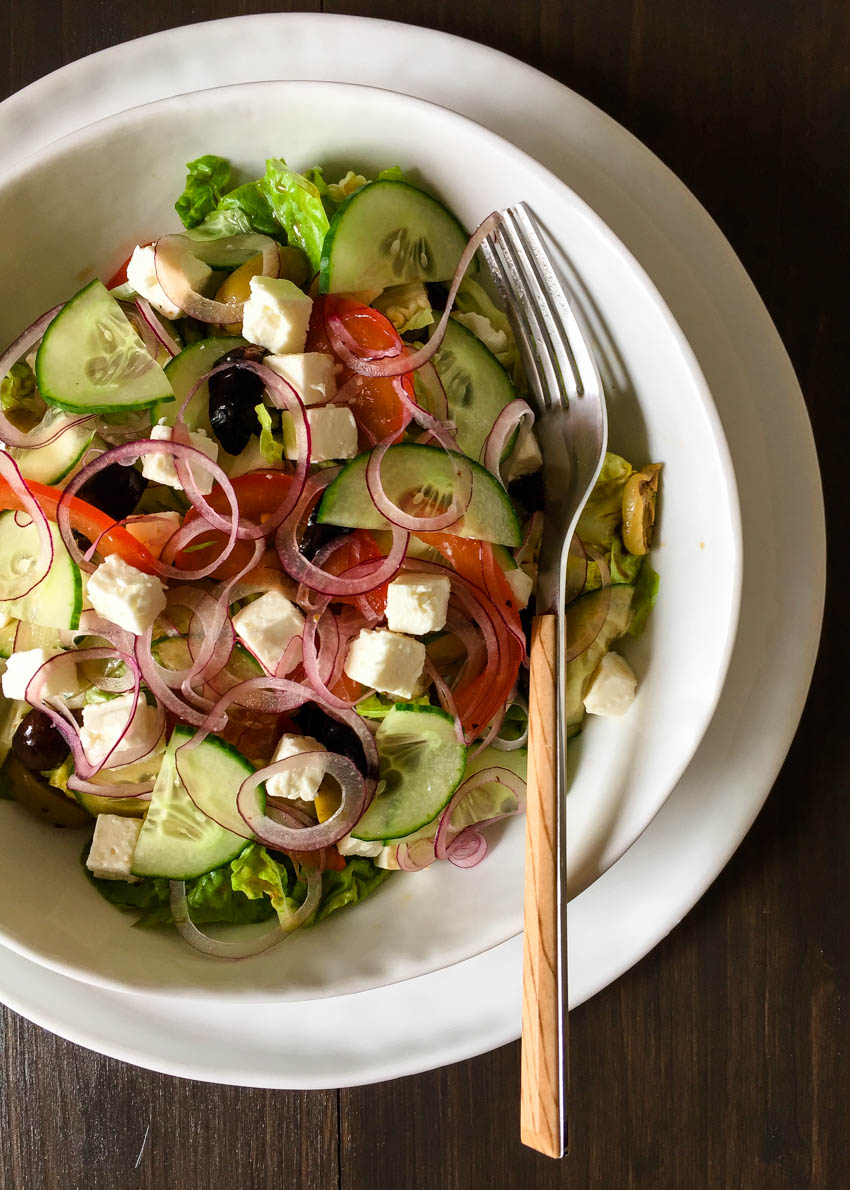 Greek Salad
6 whole baby gem lettuce
4 medium tomatoes
1 large cucumber
1 large spanish onion
200 g feta cheese
20 pieces olives
Balsamic Dressing
40 ml balsamic vinegar
1 clove garlic
60 ml olive oil
1 pinch salt
1 pinch white pepper
METHOD
Wash the baby gem, tomatoes, and cucumber. Pat dry.
Peel the Spanish onions and the garlic.
To make the Balsamic Dressing, crush the garlic, add the vinegar, salt, and white pepper to a small bowl. Add the oil and mix until it's well incorporated. Then, set aside.
Roughly slice the baby gem and add it to a large bowl.
Slice the tomatoes and cucumber and add to the large bowl.
Next, finely shave the onions with a mandoline. If you don't have a mandoline, slice or dice with a knife.
Then, cut the feta cheese into 1 cm cubes.
When you are ready to serve, season the salad with the dressing and place in a shallow salad bowl or on a plate. Then add the onions, feta, and olives on the top. Bon appétit!