An iconic French favorite, the Croque-monsieur originated in Paris cafés as a snack but is also ideal served for lunch with a hearty side salad.
The traditional Croque-monsieur is easy to prepare with toasted bread and savory sliced ham. Then smothered in melted Gruyère and a creamy Béchamel sauce.
But to master this French favorite, you'll need to learn how to make a Béchamel, one of the five mother sauces, which can seem intimidating but is quite simple. Mastering the five French mother sauces will prove essential to your cooking repertoire as it is the building blocks to numerous other sauces.
Serve the Croque-monsieur with a glass of a Loire Valley red wine, Saumur-Champigny to bring out the full flavor of this decadent toasted sandwich.
 6 SERVINGS      35 MINS      EASY    SAUMUR CHAMPIGNY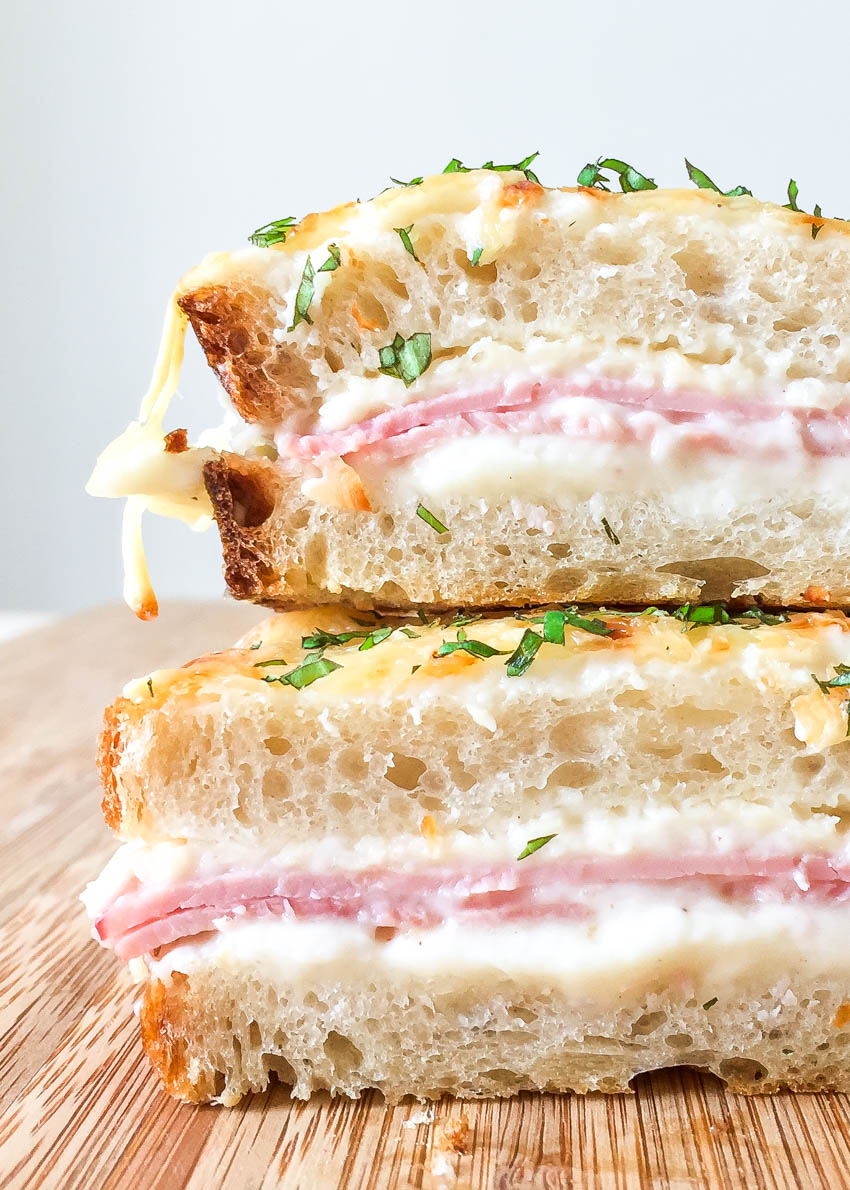 Béchamel Sauce
600 ml milk
50 g type 45 flour
50 g butter
1 pinch nutmeg
1 pinch white pepper
salt to taste
Croque-Monsieur
12 slice french bread
6 slice ham
60 g gruyère cheese
METHOD
Béchamel Sauce
In a saucepan, add the butter and melt over medium heat.
When the butter starts bubbling, add the flour to the pot and whisk to incorporate.
Cook the roux (the mixture of butter and flour) for 2 minutes over low heat. Remove from the saucepan and set aside in a bowl to cool down at room temperature.
In a pot, bring the milk with the seasoning to a simmer. Once at a simmer, add step-by-step the roux to the milk. Continually whisking so that the bottom does not burn for approx 8 minutes until the bechamel is a thick consistency.
Remove from the heat and set aside in a bowl.
Croque-Monsieur
Preheat the oven at 180C.
Slice the bread with a bread knife.
Toast the bread until it's slightly golden.
Generously spread some bechamel on the toast. Add a slice of ham. Place the gruyere on top of the ham and finish with another slice of toasted bread.
Spread a thin layer of bechamel on top of the croque-monsieur and add some gruyere.
Place the croque-monsieur on a baking tray in the oven.
Cook until is hot inside and the top in golden and "gratiné" approx. 8-10 minutes.
When the croque-monsieur is ready, remove from the heat and serve warm. Bon appétit!
NOTES
Be careful not to burn the bottom of the sandwich which will depend on your type of tray. Check it after 5 minutes in the oven. If it's too golden, remove it from the baking tray and place it directly on the oven rack.
Turn on the broiler to "gratiné" the top for 1-2 minutes.