Who doesn't love baked parmesan fries with a sweet, smoky dip?
Fun and sophisticated, these crispy baked fries are topped with grated parmesan and garnished with a healthy dip. Instead of a traditional ketchup, the dip combines robust red peppers with smoked paprika for a  quick & delicious sauce.
For a creative twist at your summer barbecue, add the roasted red pepper dip to your favorite grilled steak.
 3 SERVINGS      20 MINS*      EASY    PALE ALE BEER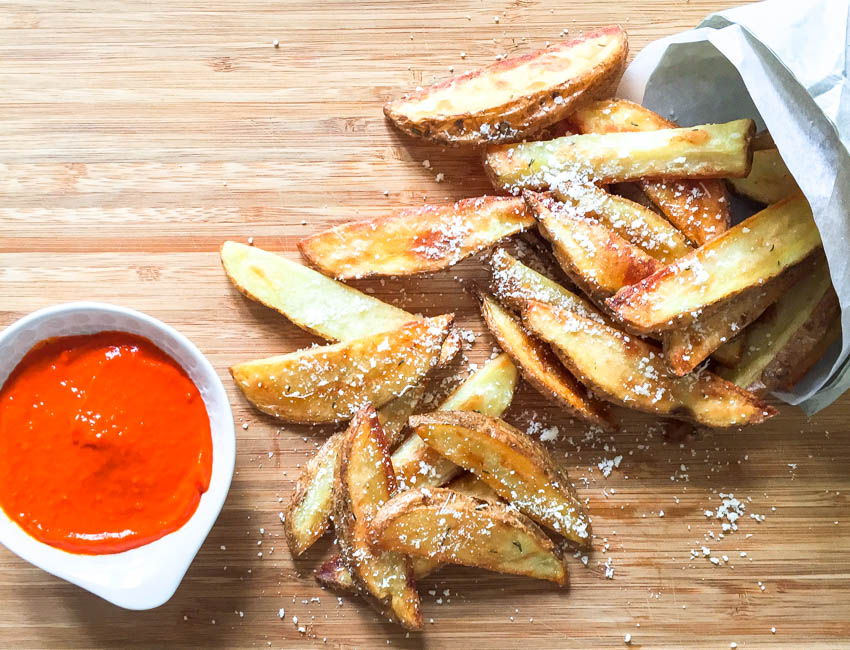 Roasted Red Pepper Dip
2 medium red pepper
10 ml lemon juice
10 ml olive oil
3 g smoked paprika
1 pinch salt (to taste)
1 pinch granulated sugar
Parmesan Fries
3 large potatoes
30 ml olive oil
2 clove garlic
2 sprig thyme
30 g parmesan
1 large pinch of salt
METHOD
Roasted Red Pepper Dip
Roast the red peppers over an open flame, barbecue grill or oven at 200 C until it's black.
Then, remove the blackened skin and seeds from the red peppers. Cut the red peppers into small pieces.
Heat a pan on medium heat with olive oil. Gently sweat the red pepper approx. 8 minutes on low heat with the lid on.
When the red pepper is tender and cooked, blend with a hand mixer with lemon juice, smoked paprika, sugar and salt to taste to a smooth purée consistency. Then strain the purée.
When the mixture is cooled down, reserve in the refrigerator.
Parmesan Fries
Preheat the oven to 200 C.
Wash and brush the potatoes to remove any remaining dirt.
Cut the unpeeled potatoes into wedges.
Then, place the potato wedges into a large bowl of water to wash the starch and prevent it from sticking together. Dry them with a clean paper towel and place into an even layer on a baking tray.
Generously drizzle with olive oil and season with salt. Then, mix the potatoes with your hands. Crush a clove of garlic with skin on with your palm of your hand and a sprig of thyme and add to the baking tray.
Bake the potatoes at 200 C approx. 30-45 minutes until the potatoes are crispy and golden. Turn the potatoes every 10-15 minutes for crispy and evenly cooked potatoes.
When the potatoes are cooked, remove from the heat and place them into a large mixing bowl. Generously grated some parmesan over the potatoes and mix together.
Place the baked potatoes into a serving bowl and serve with the roasted red pepper dip. Bon appétit!
NOTES
*additional 30-45 min cook time