Load up on this delicious protein-packed tartine for an easy go-to breakfast or lunch.
The first time I tried avocado toast, I completely understood the Instagram-obsession and why Australia had an avocado shortage. It's nutrient-rich, delicious and with very little prep work, what's not to love? The secret to this recipe is the creamy guacamole with avocado, cream cheese, chives & a drizzle of lemon juice. Smooth the guacamole over toasted rustic bread, add crispy bacon and a perfectly cooked egg for a delicious & filling breakfast or lunch.
 2 SERVINGS      15 MINS      EASY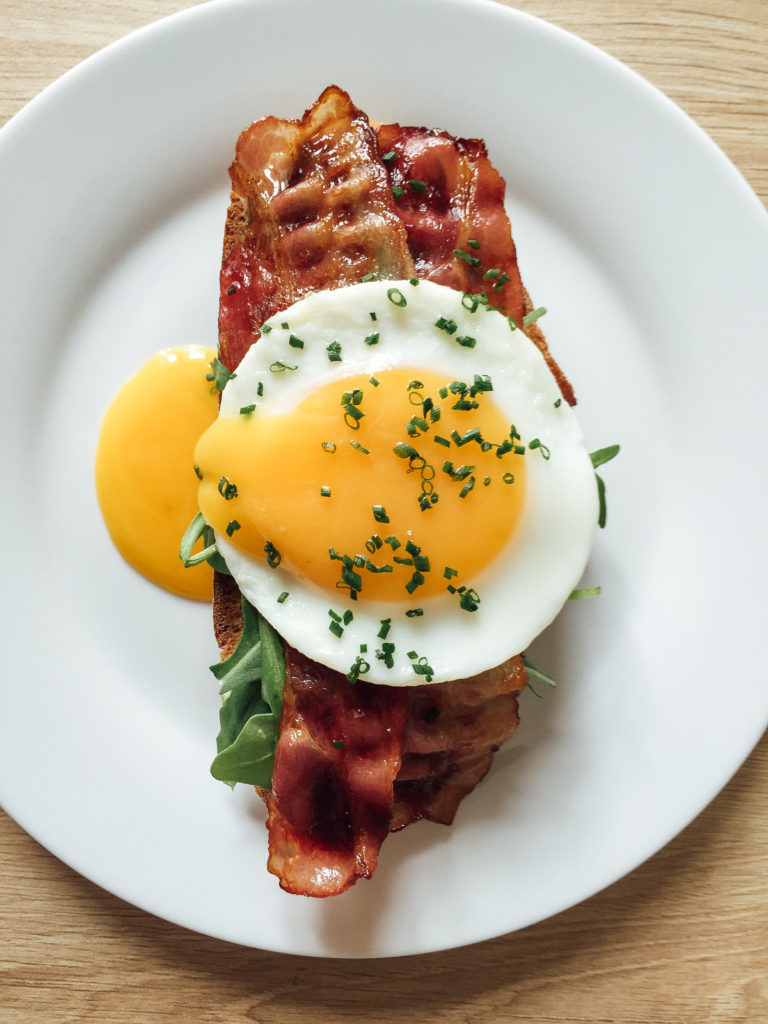 Ingredients
1/2 medium avocado
40 g cream cheese
10 ml lemon juice
few leaves chives
2 slices rustic Italian bread
4 slices bacon
2 large eggs
few leaves roquette
10 g unsalted butter
10 ml olive oil
1 pinch of salt
Method
Preheat the oven to 180 C.
Cut the avocado in half and remove the pit and the skin.
In a bowl, add the avocado, and cream cheese. Crush with a fork, then mix well until you have a smooth consistency.
Finely chop the chives and add to the bowl. Add a squeeze of lemon, salt and pepper.
Mix the ingredients and reserve in the refrigerator.
Slice the bread with a bread knife.
Toast the bread until it's golden.
In the meantime, place the slices of bacon on a tray and cook in the oven approx. 5 minutes until the bacon is crispy.
Heat a pan with butter on medium heat and crack the egg over the pan and cook for an over easy egg or as desired.
Generously spread the guacamole on the toast and add the roquette on top.
When the eggs and bacon are cooked, place the slices of bacon on the toast and then add the egg on top. Bon appétit!
NOTE
You can make extra guacamole for a dip or toast with the remaining avocado.