Clafoutis is a traditional French dessert that has become popular the world over for its simplicity and versatility.
As one of my favorite desserts growing up, with its flan-like eggy batter that's light and airy similar to a cake, it was classically paired with tart cherries. In keeping with that spirit, this clafoutis recipe is delightfully full of jammy plums, sweet mirabelles and rich Pineau des Charentes liquor. It's as easy as making pancakes and versatile enough that when an unexpected guest comes to dinner, you can mix it with the seasonal fruits that you have on hand for a homemade dessert that is both sweet and satisfying. It's best when served warm and sprinkled with confectioners sugar.
 6 SERVINGS      15 MINS      EASY    PINEAU DES CHARENTES LIQUEUR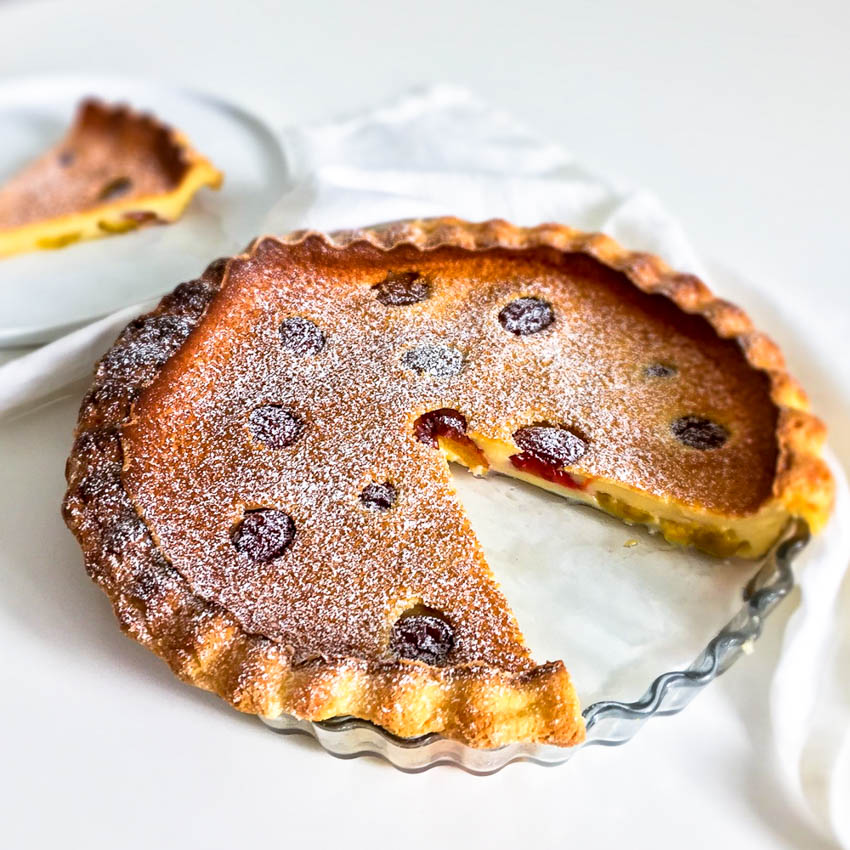 Pie Pan
5 g unsalted butter
10 g granulated sugar
Clafoutis Batter
3 whole large eggs
150 g granulated sugar
85 g flour
400 ml heavy cream
1/2 vanilla bean
15 g Pineau des Charentes liqueur
Fruit & Garnish
250 g Red French plums
180 g mirabelles
confectioners sugar
Method
Preheat the oven to 180C.
Melt the butter. Then spread it into the pie pan and add a thin layer of sugar to the pie pan to make sure the dough will not stick.
Wash the plums and mirabelles. Cut each French red plums in half, remove the pit and set aside. If using larger plums, cut them into smaller sections.
In a large bowl, add the eggs and the granulated sugar. Mix well.
Then, add the flour to the mixture and continue to mix.
Finally, add the rest of the ingredients to the clafoutis batter mixture and mix until well blended.
Pour the batter into the pie pan and place the fruit as desired.
Bake the clafoutis around 45 minutes at 180C until a nice golden color. To ensure the batter is fully cooked, poke a knife in the center and make sure it comes out clean.
Dust the clafoutis with confectioners sugar and serve warm. Bon appétit!
NOTES
An additional 45 minutes to bake the clafoutis.
If using a Blackamber plum, common in America, or other large plum variety, cut into 4-8 pieces as needed because they are larger than the red French plums.