Since my last trip in Italy, I've been captivated with squid ink pasta and rightly so with its exotic black color and delicate salty flavor.
Squid ink pasta adds instant appeal to any dish. But it requires the right flavor combinations to bring out the delicate salty undertones. To capitalize on this, a dressing with savory anchovies, spicy chili, and aromatic garlic makes the perfect companion. The juicy red tomatoes and vibrant green broccoli provides just the right color and texture for a balanced dish that will quickly become a longstanding favorite. For a twist on classic pasta plating, spin the pasta with a large fork to create a nest for the vegetables.
 2 SERVINGS      30 MINS      EASY    PINOT GRIGIO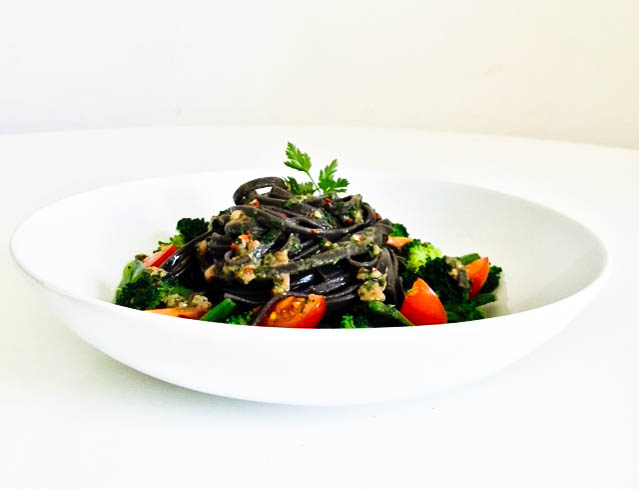 Garlic Anchovy Sauce
40 g anchovies salted in oil
2 g red chili
1 clove of garlic
5 g parsley fresh
50 g olive oil
Pasta and Vegetables
150 g ink pasta
1 small head of broccoli
100 g snowpeas
8 whole cherry tomatoes
METHOD
Garlic Anchovy Dressing
Finely chop each of the ingredients of the Garlic Anchovy Dressing.
Mix well with the olive oil in a large bowl. Set aside.
Pasta and Vegetables
Bring salted water to a boil in 2 saucepans. One is for the vegetables and the other is for the pasta.
Trim off broccoli florets from the stem and add them to a medium bowl.
Cut the snow peas into 4 segments and add them to the bowl with broccoli.
Blanch the broccoli and snow peas for 2 minutes in one of the saucepans with boiling water. Strain and immediately cool down in ice water for 5 minutes. Then strain and set aside.
In the meantime, cut the cherry tomatoes into quarters and add to the bowl with the dressing.
Cook the pasta in boiling salt water until al dente.
Then, add the broccoli and snow peas to the pot with the pasta and reheat for 20 seconds.
Strain the pasta and vegetables. Mix with the dressing in the large bowl. Serve immediately. Bon appétit!
NOTES
There is no need to trim the ends of the snow peas unless desired.
Be careful not to overcook the vegetables. They are better al dente that adds a crunch.