This creamy Flammekueche is full of flavor and will satisfy your craving for homemade pizza, Alsacian style.
Tarte Flambée is a specialty from Alsace in Eastern France and the neighboring South of Germany. Depending on the region it is also referred to as "Flammekueche." Master this traditional Tarte Flambée with thinly rolled flatbread dough topped with rich crème fraîche, finely sliced onions, and savory lardons (bacon) galore.
For an authentic look, roll your dough into a rectangle or go off script and add a heaping layer of gruyere for a delicious Flammekueche "gratiné."  Perfect for lunch or a quick snack, you can make the flatbread dough ahead of time or enjoy with a glass of riesling as a sophisticated appetizer with friends.
 2 SERVINGS      30 MINS      EASY    RIESLING OR ROSÉ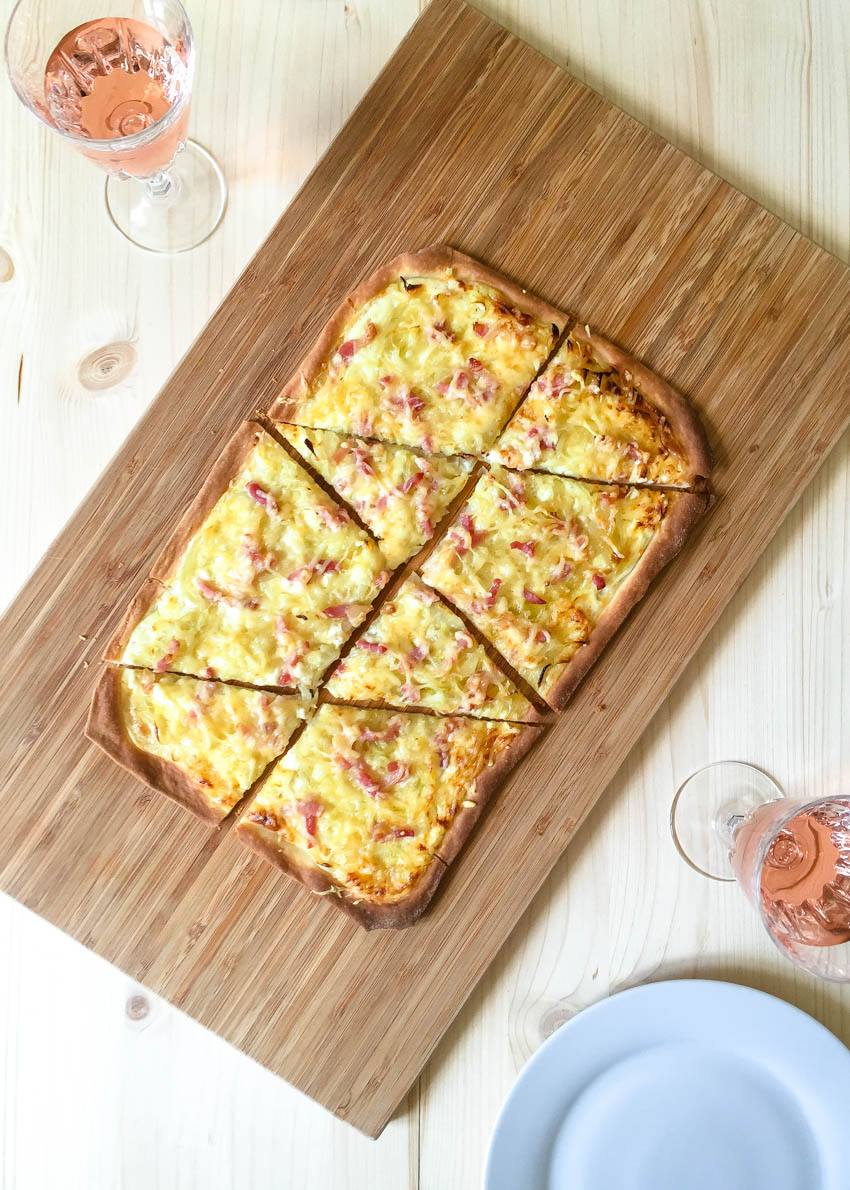 Homemade Flatbread
150 g Italian type 00 flour
140 g greek yogurt
5 g sunflower oil
4 g salt
Garnish
2 medium onion
100 g bacon
200 g crème fraîche
120 g gruyère cheese optional
10 ml sunflower
10 g butter
1 pinch white pepper
METHOD
Begin by making the flatbread by combining all the ingredients together with your hands in a bowl or on a work surface.
Place the dough on a board and knead for 2 minutes.
Rest the dough for 30 minutes minimum in the refrigerator (or place the dough in the refrigerator overnight for the next day, recommended but no more than 48 hours)
When the dough is resting, start to sweat the onions then come back to roll your dough.
Peel the onions and finely mince them.
Heat a pan with sunflower oil and butter over medium heat.
Sweat the onions for 2 minutes, then remove from the heat and set aside.
Preheat the oven to 240° C.
Place the dough on a board with a little bit of flour and divide into 2 sections by cutting the dough in half. Then, roll the dough into balls.
Next, roll one dough into a large rectangle to fit on the baking tray. The flatbread should be less than 0.5 cm (1/5″) thick (about the size of a US penny).
Place each flatbread on its own baking tray.
Generously evenly spread the creme fraiche on the dough.
Then, add the onions, bacon, and seasoning with a pinch of salt and pepper. You can also add gruyere on top (optional).
Bake approx 15 minutes at 220° C. Serve warm. Bon appétit!