There are many versions of the Nicoise Salad, but this recipe is a delicious tribute to the fresh ingredients that make the famous salad from Nice so iconic.
The most famous French salad is delightfully easy to prepare. The classic Nicoise salad has many different recipes but as a French chef, it's not a Nicoise salad unless it includes anchovies, tuna, olives, hard boiled eggs, tomatoes, green beans, raw bell peppers and a mix of young salad. Permeating with all these fresh ingredients, this iconic dish is perfect on a hot summer's day or when you want to satisfy your craving for an incredible blend of fresh & healthy ingredients.
 4 SERVINGS      20 MINS      EASY    BANDOL ROSÉ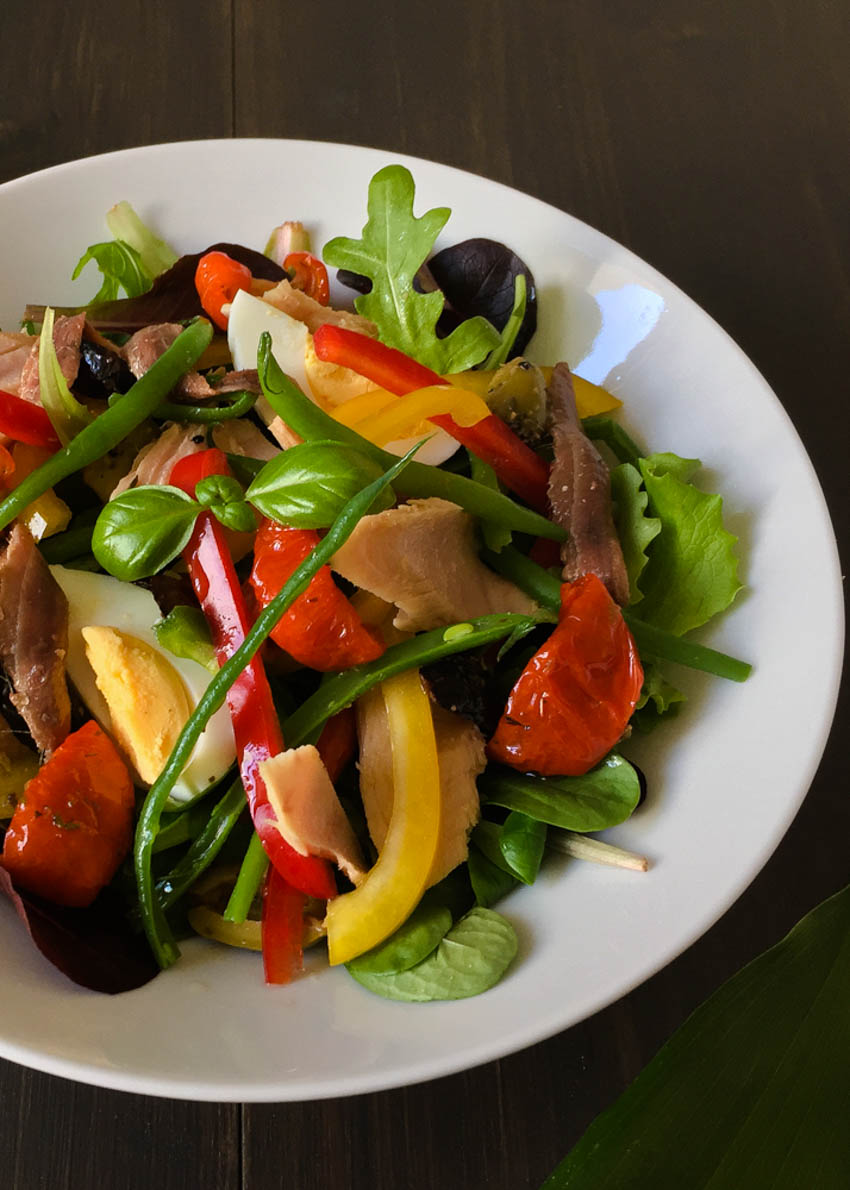 Salad 
150 g mesclun
100 g green beans
20 piece confit tomatoes
20 piece olives
20 piece salted anchovies
1/2 medium red pepper
1/2 medium yellow pepper
1/2 medium green pepper
200 g cooked tuna
4 whole large eggs
Balsamic Dressing
40 ml balsamic vinegar
60 ml olive oil
1 pinch salt
1 pinch white pepper
METHOD
In a pot, bring the water and vinegar to the boil.
Gently add the eggs to the pot and cook for approx. 12 minutes.
In the meantime, wash the peppers and cut in half. Remove the seeds. Cut the peppers as batonnet but not too large and reserve in the refrigerator.
When the eggs are finished cooking, cool down in ice water. (Keep the eggs in the water until you peel them.)
Remove the top from the green beans.
Bring a pot of salted water to a boil. Blanch the green beans approx 3 min until they are al dente but cooked. Then immediately cool down in ice water.
Strain the ice water from the green beans and dry them on a paper towel. Then reserve in the refrigerator.
Peel the eggs and place them in a bowl with water to remove any remaining shells. Reserve in the refrigerator.
In a small bowl, add the vinegar, salt, white pepper. Then add the oil and mix until it's well incorporated. Set aside.
Wash the salad mesclun and dry if needed.
Add equal parts mesclun to the serving salad bowls.
Then divide the remaining ingredients among the salad bowls and arrange nicely.
Season with the balsamic dressing as desired. Bon Appétit!