There are many ways to prepare oysters. You can roast them, bake them or even fry them, but there is nothing more delicious than raw oysters served with the perfect garnish.
Our Asian oyster dressing is equally as impressive as shucking an oyster. The combination of sweet and salty flavors naturally accompany the delicious brininess of the oyster. And for those of you that are traditionalists, the classic oyster dressing with its piquant flavor is sure to enhance the oyster's sweetness. Or why not try both!
Fun Fact: When tasting an oyster, sip the "liquor" (oyster's natural juice) and chew the meat to release the full flavor of the oyster. The winter months are the perfect time of year to enjoy fresh oysters, due to the colder temperature of the ocean when the oysters are at their prime.
 4 SERVINGS      20 MINS      EASY    MUSCADET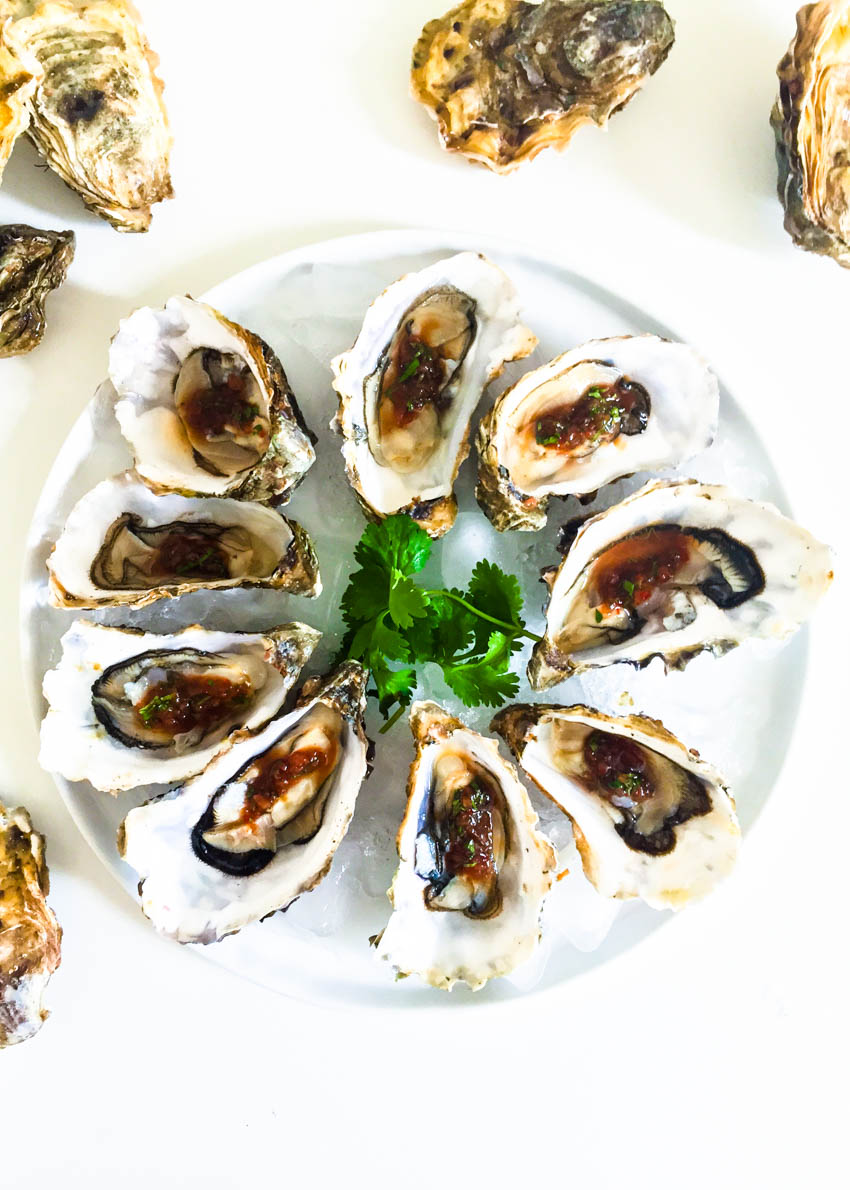 Asian Style Oyster Dressing
3 whole shallots small
2 g red chili fresh
1 whole lemon
2 whole limes
10 g ginger fresh
10 g oyster sauce
15 g sweet soy sauce
10 g soy sauce
3 g cilantro fresh
METHOD
Peel the shallots and chop into fine pieces.
Add the shallots to a saucepan.
Place a strainer over the saucepan. Squeeze the juice of the lemon and limes over the strainer. When done, remove the strainer from the saucepan.
Chop the red chili into very fine pieces and add to the mixture.
Peel the ginger with a peeler or knife. Then, finely grate the ginger over the saucepan. Discard the fiber.
Place the saucepan over medium heat to reduce the mixture by half.
Measure out the oyster sauce, soy sauce, and sweet soy sauce.
When the mixture is reduced, add the ingredients to the saucepan.
Return the saucepan to the stove and bring to a simmer over medium heat and wait 30 seconds. Then remove from the heat.
Finely chop the cilantro.
Once the mixture is at room temperature, add the cilantro and mix well.
Chill in the refrigerator for up to a week.
Serve chilled with oysters. Bon appétit!
Classic Oyster Dressing
1 whole shallot small
50 ml red wine vinegar
1 pinch of black pepper
METHOD
Peel the shallot and chop into very fine pieces.
Add all the ingredients to a small container and mix.
Refrigerate the mixture overnight to infuse the ingredients together. The mixture will keep in the refrigerator for up to a month.
Serve chilled with oysters. Bon appétit!
NOTE
Leftovers can be used as a base for a salad vinaigrette dressing.