As a longstanding favorite, poached pears are elegant enough to serve to friends on the weekend, yet simple enough for a weeknight meal.
For an exquisite poached pear dessert, velvety vanilla ice cream replaces the hard seeds of the pear. Then, rolled in toasted almonds and drizzled with warm, rich chocolate. We're dishing up a cold treat that is made the day before but it is equally as delightful served warm with vanilla ice cream on the side.
 2 SERVINGS      20 MINS      EASY    MAURY RED WINE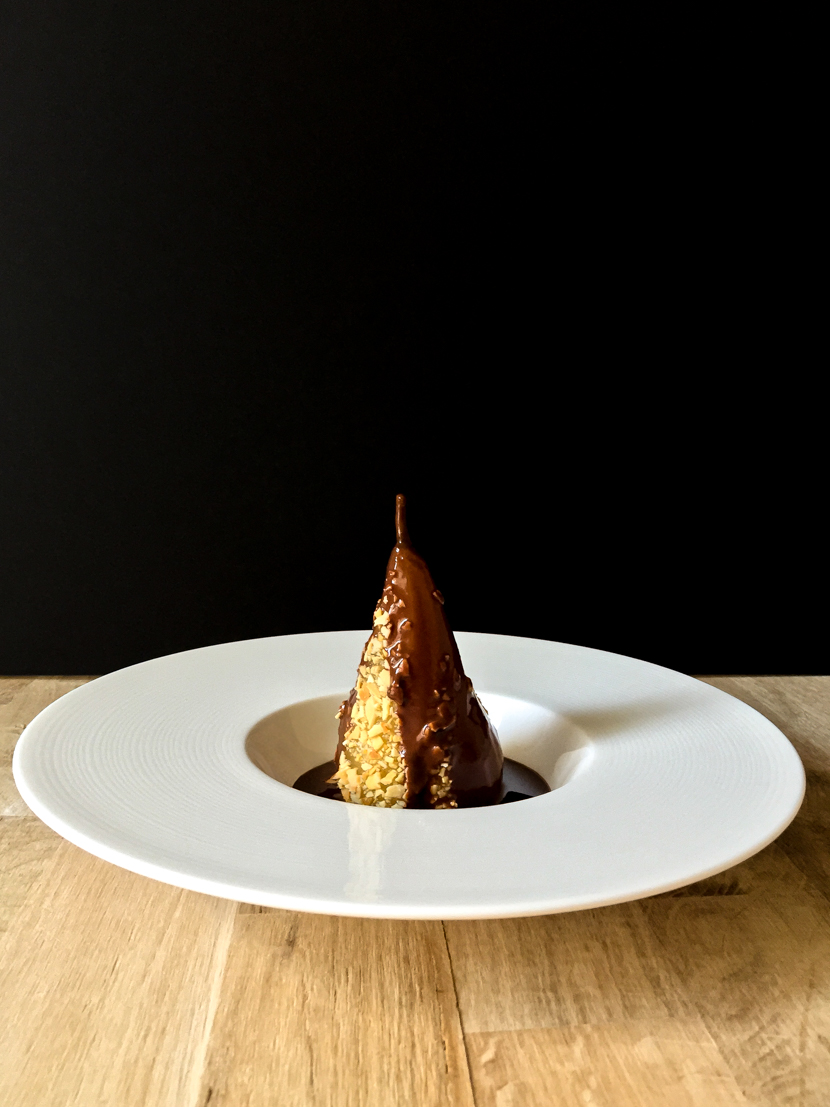 Poached Pears
2 whole pears
250 g granulated sugar
500 ml water
1/2 vanilla bean
1 piece star anise
1/2 stick cinnamon
Roasted Almonds
40 g almond
Chocolate Sauce
100 g dark chocolate 55%
100 g milk
Garnish
60 g vanilla ice cream
METHOD
Poached Pears
Peel the pears to remove all the skin leaving the stem.
Remove the seed with a small spoon or melon scoop through the bottom of the pear creating a hole in the center of the pear.
In a saucepan, add the sugar, water, and the spices.
Bring to a simmer. Then, add the pears and poach approx 20 minutes over low heat.
Remove the saucepan from the heat and set aside. The pears will finish cooking in the warm syrup. When it's cool down, reserve the pears in the refrigerator in the syrup.
Roasted Almonds
Preheat the oven to 180 C.
Place the almonds in an even layer on a baking tray. Roast for 2-3 minutes until golden.
Remove the tray from the oven and cool at room temperature.
Once the almonds are cooled down, crush into small pieces and set aside leaving them on the tray.
Chocolate Sauce
In a saucepan, add the dark chocolate and the milk.
Heat the saucepan over low heat to gently melt the chocolate and mix well to incorporate. Remove from the heat and set aside.
Garnish & Dressing The Dish
In a saucepan, add a bit of the poached pear syrup.
Bring to a simmer and reduce for approx 2 minutes for a thick syrup. Set aside.
Then, dry the poached pears with a paper towel.
Put the vanilla ice cream inside of the pears with a small spoon.
With a brush, coat the pears in the poached pear syrup.
Roll the pear on the tray with the almonds to cover the pear with the crushed almonds in a light even layer.
Place on the plate or in a bowl and serve drizzled with the warm chocolate sauce. Bon appétit!
NOTES
*An additional 4 hours to cool in the refrigerator.
When choosing your pears, we like the Concorde, Conference or Bartlett pear varieties. Look for fruit that is firm but not overly ripe. If it's too soft, it will fall apart.
Store them in the syrup in the refrigerator to keep for up to a week.