Are you looking for a quick & easy meal in under 30-Minutes? This flaky, delicious salmon with nutrient-rich vegetables is a cinch to prepare.
To perfectly balance the medium cook of the salmon to the high heat of the wok, the 2 are best when cooked separately. The secret to delicate salmon is to cook it over medium controlled heat and not to touch it once it is cooking. Flip the salmon when you see the soft pink color on the top.
The Asian Wok is packed full of fresh vegetables; carrots, zucchini, snow peas, shitake mushrooms, sprouts, & Chinese cabbage. Thinly sliced vegetables cook in the hot wok in a matter of minutes. Drizzle with the sweet-savory sauce and you have a fresh & enticing meal in under 30 minutes.
 2 SERVINGS      30 MINS     EASY      SAKE WINE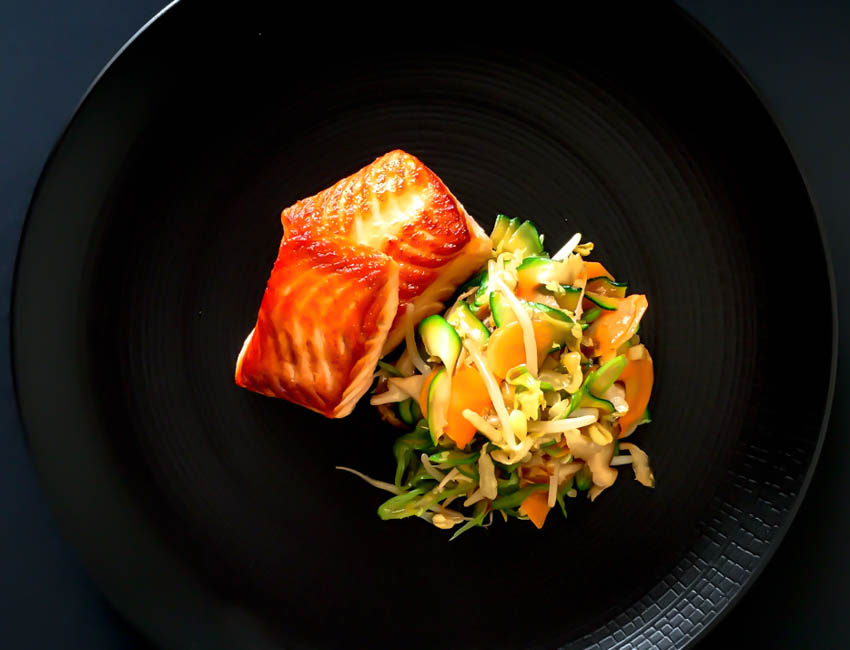 INGREDIENTS
Pan-Fried Salmon
300 g salmon
20 ml sunflower oil
1 pinch of salt
Vegetable Wok
1 piece carrot
1/2 piece zucchini
50 g soybean sprouts
60 g shitake
1/4 piece Chinese cabbage
50 g snow peas
Sauce
15 g oyster sauce
25 g soy sauce
2 g granulated sugar
2 g ginger
5 g sesame oil
5 g sunflower oil
METHOD
Pan-Fried Salmon
Debone the salmon with a bone remover, if needed.
Trim the salmon and take off the skin with a long sharp knife.
Rinse with cold water and pat dry with a paper towel. Reserve in the refrigerator.
Vegetable Wok
Peel and the carrot. Wash all the vegetables except the soybean sprouts.
With a mandoline or food processor, finely slice the carrot and the zucchini.
Finely slice the Chinese cabbage, the snow peas and the shitake mushrooms with a long sharp knife.
In a large bowl, add all the vegetables together with the soybean sprouts. Set aside.
Sauce
Grate the ginger and add to a bowl.
Add all the ingredients together in a bowl and mix well. Set aside.
Finishing The Dish
Heat a nonstick pan over medium heat. Season the salmon with salt and place in the pan. Cook for 5 minutes on the same side for crispy salmon. Then flip to the other side and cook for an additional 2 minutes.
In the meantime, heat a wok or a large pan over high heat. Add the vegetable wok and cook for 2 minutes. Then add the desired amount of sauce and cook for few seconds. Remove from the heat.
Place the vegetable wok and the salmon on the plate. Serve warm. Bon appétit!