To add cheese or not to add cheese?
Gratin Dauphinois is a traditional French cuisine from the South-East region that has endless savory appeal. How could we resist the layers of golden potatoes, robust cream and richness of the Savoy cheese? We couldn't. Although the traditional recipe does not have cheese, but rather simply cream and potatoes when faced with the question of adding cheese, we happily break tradition.
As one of France's iconic dishes, it is referred to as scalloped potatoes or potatoes au gratin, in English, with the difference being whether it has cheese or not. And gratin meaning to brown the top. With this dish, we recommend taking a trip to the French Alps in the Savoy region, if only at your dinner table by adding a regional cheese such as a gruyère or emmental and pairing it with Roussette or Chignin-Bergeron wine for pure enjoyment.
 2 SERVINGS      20 MINS      EASY    ROUSSETTE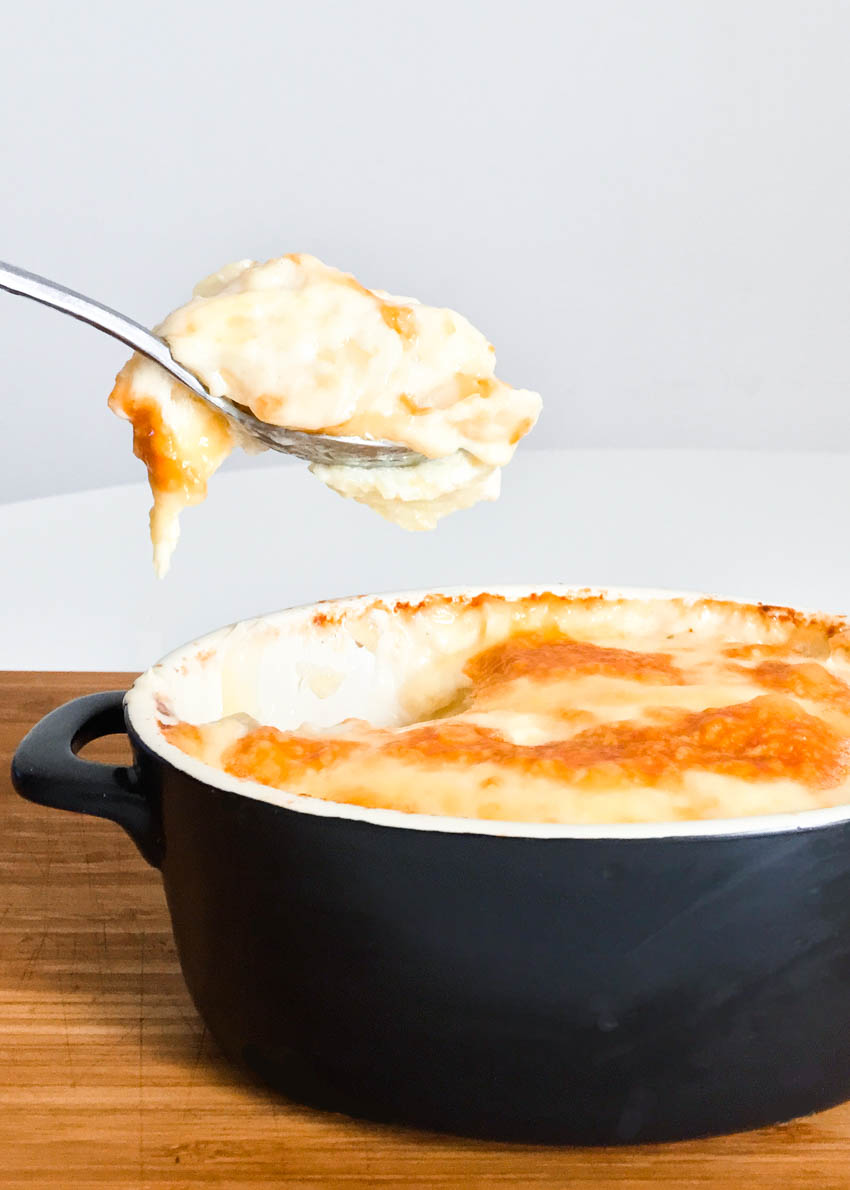 Ingredients
400 g potatoes (approx. 4 small)
1 clove garlic
200 ml heavy cream
1 pinch of nutmeg
1 pinch of thyme dried
20 g gruyère cheese or similar
large pinch of salt to taste
1 pinch of black pepper
Method
Preheat the oven to 150C.
Wash the potatoes, as needed.
Fill a large bowl with water. Peel the potatoes and place them in the water to prevent oxidation.
Prepare a deep baking dish by rubbing the inside with butter.
Finely slice the potatoes with a chef's knife or mandolin. Add the potatoes to the baking dish in layers until 3/4 full.
Peel and finely chop the garlic.
Add the heavy cream, garlic, nutmeg and thyme together in a bowl and mix. Add salt and pepper to taste. Mix well.
Pour the mixture over the potatoes.
Cover with foil and bake approx. 60 minutes. Check with a knife to make sure the potatoes are soft. If so, remove from the oven.
Cover the top of the potatoes with the cheese.
Place in the oven uncovered for approx. 10 minutes to brown the top at 200C.
If you are serving in the baking dish, clean the edges with a paper towel. Serve hot. Bon appétit!
NOTES
An additional hour to bake the Gratin.
Do not rewash the potatoes before adding them to the baking dish.