This classic is robust, crunchy and bursting with flavor which makes this our favorite go-to recipe for entertaining.
The combination of the tangy creaminess of the anchovy dressing, the crisp baby gem lettuce, tender chicken and buttery undertones makes for the quintessential Caesar salad. This versatile caesar salad recipe is not only is a great pairing partner to your favorite Italian dish but is noteworthy enough to stand alone as the main attraction. Also, infusing the dressing overnight is a bonus and gives you more time with that special dinner guest or two. When serving the salad, we recommend layering the chicken and croutons for added volume.
 4 SERVINGS      40 MINS      EASY    BANDOL ROSÉ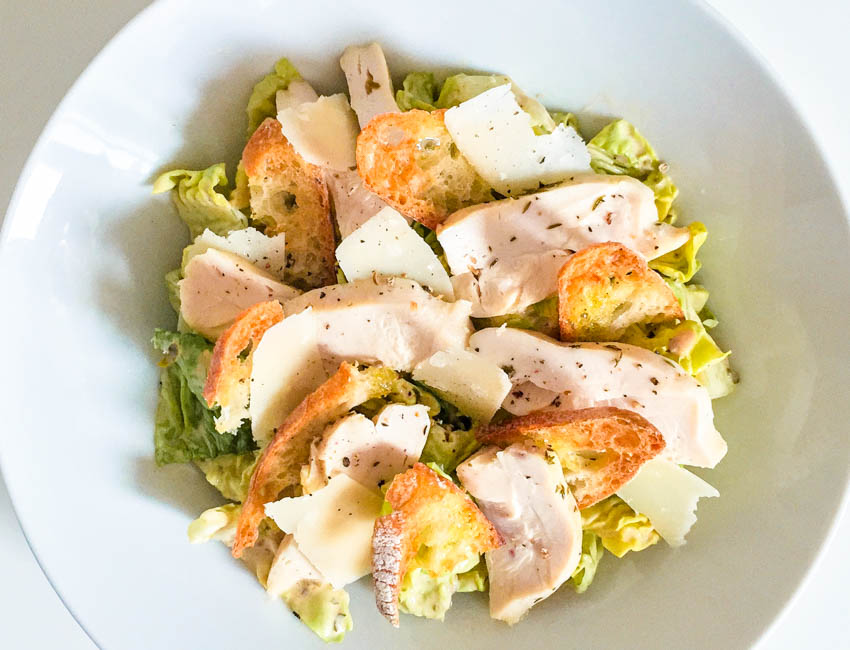 INGREDIENTS
Chicken
3 medium chicken breast
100 ml olive oil
few leaves of thyme
1 clove of garlic
1 large pinch of
salt
1 pinch of pepper
Croutons
9 slices french bread
1 clove of garlic
10 ml olive oil
1 pinch of salt
Caesar dressing
55 g anchovies
25 g capers
1 clove of garlic
10 g Parmesan cheese grated
100 g mayonnaise
1 drop Worcestershire sauce
30 ml water
Garnish
12 heads of baby gem lettuce
30 g Parmesan cheese shaves
METHOD
Chicken and Croutons
Season the chicken breast with salt and pepper.
Place the chicken tightly in one layer in a small baking pan or gratin pan. Add olive oil, thyme and gently crushed whole garlic clove to the top of the chicken.
Place the chicken in a cold oven. Turn the oven on to 160C and cook for about 20 mins or until almost done.
Then remove the chicken from the oven and rest for 10 mins.
Turn the oven up to 180C to preheat the oven for the croutons.
Use a bread knife and slice the bread into thin slices for the croutons.
Peel the clove of garlic and rub gently on one side of each bread slice.
Place the bread on a baking tray. Sprinkle the bread with salt and olive oil, to taste.
Bake about 5 mins until the croutons begin to golden. Then, remove from the oven and set aside.
Slice the chicken into thin strips and chill in the refrigerator until ready to serve.
Caesar Dressing
Begin to make the mayonnaise, if making from scratch.
Finely chop the anchovies, capers and garlic.
Finely grate the parmesan.
Combine all the ingredients together and blend to a creamy texture.
Reserve in the refrigerator for up to 3 days.
Finishing the Salad
Wash and chop the lettuce.
Shave the parmesan with a peeler and set aside.
Mix the lettuce with the desired amount of dressing in a large bowl.
Dress the final shared bowl or individual dishes by adding the salad mix, chicken, shaved parmesan, and croutons. Bon appétit!
NOTES
Make sure the salad dressing has a nice consistency, so it coats the salad ingredients.
By slow cooking the chicken in the oven, it will be nice and tender.