One of my favorite no-cook meals, this exquisite smoked salmon salad, makes the perfect meal on the go or a quick and healthy lunch at home.
With slices of smoked salmon and layers of crisp cucumbers, topped off with dill yogurt dressing, you have a fresh and easy summer salad in under 10 minutes. The creamy yogurt dressing is inspired by a traditional Greek tzatziki but instead of mint, fresh dill is mixed with the creamy yogurt and a drizzle of lemon and tabasco for a nice kick. Pair the delicious smoked salmon salad with a glass of riesling for a fresh taste of summer.
 2 SERVINGS      15 MINS      EASY   RIESLING OR CHENIN BLANC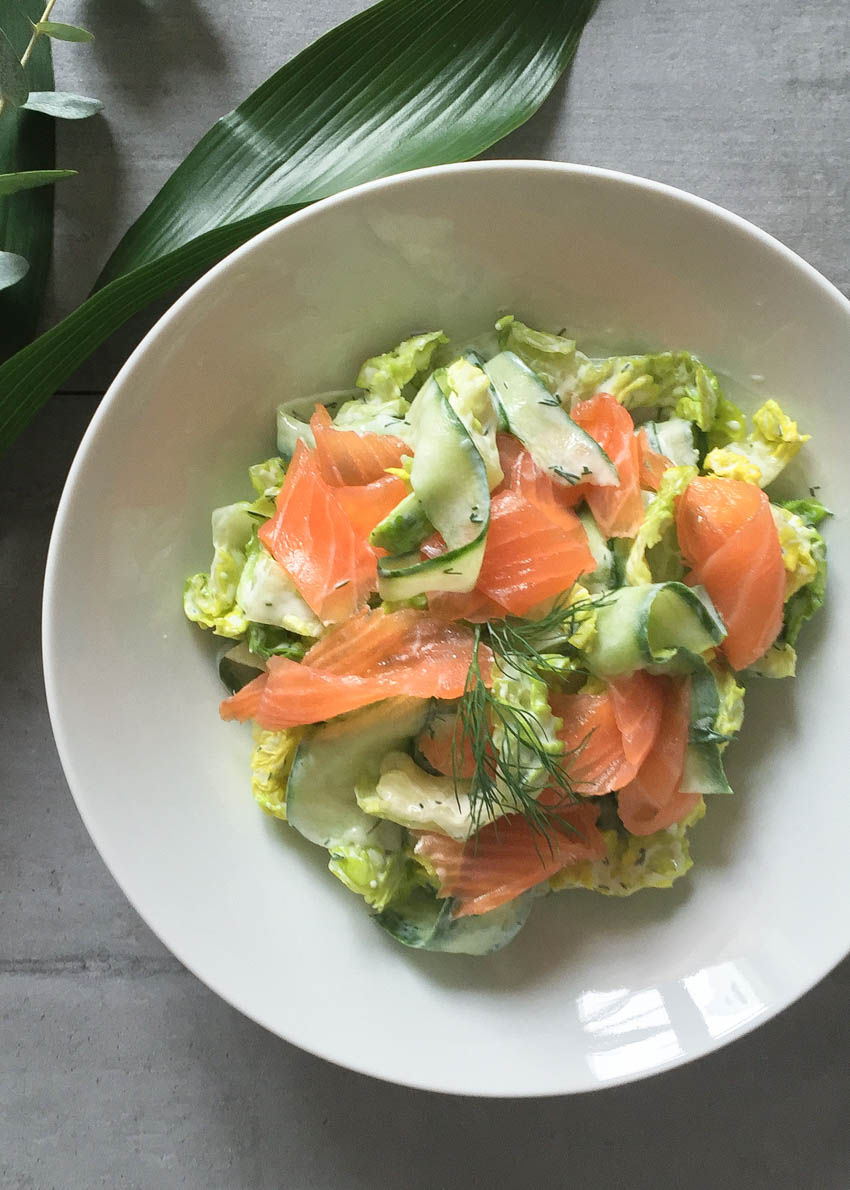 Dill-Yogurt Sauce
150 g greek yogurt
20 ml lemon juice
2 stalk dill
1/2 clove garlic
1 drizzle tabasco
10 ml olive oil
salt to taste
Smoked Salmon & Cucumber Salad
2 whole baby gem lettuce
1 large cucumber
100 g smoked salmon sliced
METHOD
Finely chop the dill and add to a small bowl.
Add the yogurt to the small bowl with all the ingredient for the dill-yogurt dressing.
Then, reserve in the refrigerator.
Next, wash the baby gem lettuce and the cucumber.
Cut the cucumber in half and shave with a peeler or mandoline on the long side into long thin slices.
Roughly chop the lettuce and place in a large salad bowl.
Then, add the shaved cucumber to the salad bowl.
Season the salad with the yogurt dressing and mix.
Divide the salad mixture evenly among the salad bowls and add the smoked salmon on top. Bon appétit!